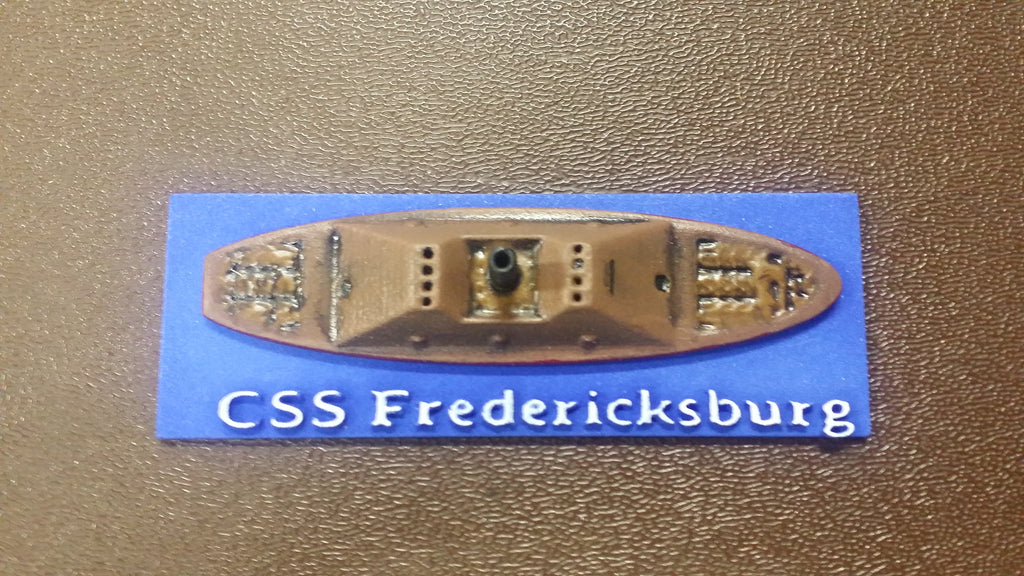 CSS Fredericksburg (Price for PAINTED MODEL - UNPAINTED Available on Shapeways)
Often incorrectly described as an "enlarged Albemarle type", Fredericksburg predates Albemarle by a year, but was commissioned later due to material shortages and labor strikes. She was the weakest of the James River ironclads, being only armored on the casemate and pilothouses, but was nevertheless a very successful design, and single handedly kept Ben Butler from reinforcing Grant at Petersburg. Of note, she was the only ship in the James River Squadron to have deviate from the official color scheme. In this case, she is said to have been painted chocolate brown.
Price listed is for a PAINTED MODEL, base not included.  Model will be painted in a scheme similar to that shown unless customer requests otherwise in the comment section of the order. Please allow 3-4 weeks for delivery as ship must be printed to order, shipped to us, then painted.
The UNPAINTED MODEL is available through our Shapeways store for $10.70. Click HERE! Blue base with raised ship's name also sold separately in the Shapeways store!